Product Description
Male to Female Adapter
These high-quality glass adapters are the perfect way to convert the joint size of your piece. Consisting of a male ground joint on both sides. Choose from our various sizes of Male to Male Adapter to complete all of your customization needs!  The second benefit to this adapter is that's worth mentioning is that this can keep your HOT NAIL 3 inches off of your water pipe or rig thus protecting it from heat shock cracking 🙂  Such a simple adapter could make any waterpipe into a rig.  Also can be used to out a touchable distance to carb your nail without risking getting burned.  It is a nice piece to add to your collection that will come in handy on many occasions.  Now you can convert all you male fittings into female fittings to use as waterpipe or even to use a different type of nail, the Female to Female adapter has got you covered!
Female to Male adapter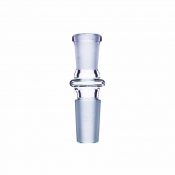 Height: 2.75″ inches
Glass Thickness: 3mm Borosilicate Glass
Joint Size: We carry all sizes from 10mm, 14mm and 18mm Male
This piece can be used to:
Highlights
 Add an ash catcher to your oil rig.
Convert your oil rig to a flower piece.
Helps keep heat away your expensive rig or waterpipe
Adapter
Clear Glass
Comes with Male Joints
For female joints
Ground Joint
Highest Quality Materials
Scientific Glass
Unmarked Glass
What is the Correct Downstem and Joint Size?