Kush Clean ™
Tired of scrubbing and shaking your  waterpipe clean?
WOULD YOU LIKE YOUR  smoking utencils TO CLEAN themselves?
Kush Clean is a revolutionary natural product that thoroughly removes Tar, Resins & Odors from you glass waterpipe without any work.
Simple REUSABLE CLEANING has become a reality.
one bottle cleans 100's of bongs.
Is your glass Kush Clean?  Our exclusive glass cleaning formulation was designed to cut through Tar & Resin from both Concentrates and Herbal Blends build-up. Powerful concentrated natural cleaning agent get to cutting through the grime with ease, leaving a sparkling clean and scratch free piece of glass. Do you wish you pipe or bong were like new again? Kush Clean is simple to use and was designed with today's sophisticated glass in mind. Our glass Pipe & Bong Cleaner has a nonabrasive formulation using a cleaning technology that protects your glass collection from tiny invisible scratches that other inferior methods and products can cause. Clean all your accessories and tools with Kush Clean. Cleaning Dabbers, Domes, and Nails with ease dissolving tar and restoring the tools back to their original state.
In stock
Product Description
Kush Clean – best way to clean a bong
No Work No Fuss just Set it and Forget it! – Re-Usable too!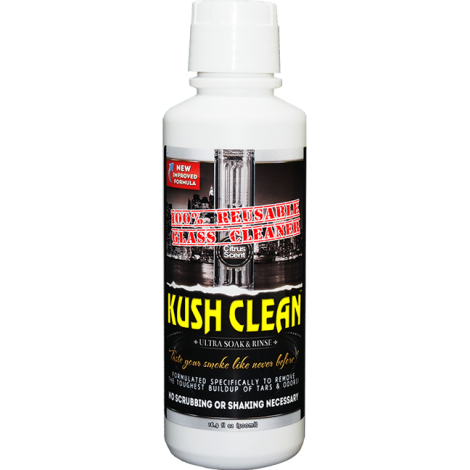 1Kush Clean ™ is the best pipe cleaner around for today's modern pipes. If you own some nice glass work and have had trouble with other cleaners and methods, than try our pipe cleaner. Our product Emulsifies Tough Resin's and Tars changing their molecular bond and rendering them water soluble and washable with warm water. Once the best pipe cleaner, Kush Clean, has gone to work your left with a sparkling clean pipe after a short warm water rinse. After using Kush Clean, Smell your pipe, and enjoy the fresh scent of clean glass. Better grab your favorite smoke, take it out after you have cleaned your pipe and enjoy the flavor of your your favorite smoke the way mother nature intended. The difference before and after will be night and day. if you are a connoisseur and enjoy what you smoke, give us a try. Then you can enjoy every session as it were a new pipe.
Other inferior methods and products either don't clean all the way, require abrasives that remove the luster of glass and metal. Other methods may clean visible tars ok but leave you, your pipe, your sink, the room you cleaned it in, and your hands smelling tar like. Most people hate having a film of invisible resin on their hands, leaving them with an odor of a pipe, all from the use inferior other methods and products.
That is not the case with Kush Clean – the best pipe cleaner for today's modern pipes and people. When your done you will smell like clean citrus, your pipe will smell clean and fresh, your room will smell clean and fresh, and you will smell clean and fresh.  Our cleaner is 100% liquid so it can get into any nook and cranny imaginable.  Our cleaner cleans without the need out shaking or scrubbing, just plug the hole, fill it up and watch the resin drop!
Cleans Glass Smoking Accessories WITHOUT SHAKING OR SCRUBBING
16 oz.
Cleans YOUR GLASS for YOU while YOU do SOMETHING BETTER
100% ReUsable 1 bottle can keep on cleaning without compromise in quality
Do Not Use Kush Clean Acrylic or Plastic Smoking Accessories and/or Parts.
[spacer size="5″] [pullquote align="left"] Taste the Taste of Clean, with Kush Clean [/pullquote] Once you clean your pipe with Kush Clean you no longer have to taste the leftover stale resins and tars. AVOID Breaking Your EXPENSIVE Glass with other inferior products that require you to shake or use abrasives!
Kush Clean's is NON ABRASIVE NO SHAKING NECESSARY Formulation just could possibly save you the headache, cleanup and cost of a losing a nice piece of glass. Take your time check out our site. If you have any questions don't be afraid to contact us via email or phone. We are here for our customers and would love to hear from you.
[quote style="1″]"A mind that is stretched by a new experience can never go back to its old dimensions." – Oliver Wendell Holmes, Jr.[/quote]
Only logged in customers who have purchased this product may leave a review.