Most Awarded eNail Brand Ever Made
We have the best flavored dabs and hugest vapors from our enail products.  Whether you're a OG dab-head or a modern connoisseur of all the latest high tech, when it comes to dabbing, you don't mess around with sub par devices or copy cats like mini nail, Bee-Nails, Yodabadaba , or puffing bird.  710 Life & High Five Vape have been smashing it long before those brands even were made.  710 Life has all the awards for excellence, the rest have none.   Enails have changed the game whether we are talking the 710 Life Enail, the original in the game for over 10 years and  counting…. Evolution Portable enail beats even the newest contenders to the portable battery powered enail market and AC powered enail market.  We have heard the community for years and have worked for many years on our finally released 710 Life EVOLUTION eNail
Teach an Old Dog New Tricks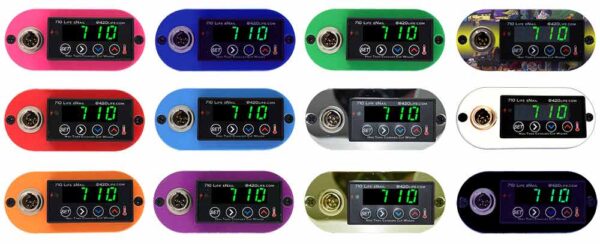 if you're an orignal OG dabber, you know the industry has changed a lot and is growing faster than ever… Keeping up with all the new tech has never really seemed like a priority for you.  Your methods are tried, tested and true by your standards…. but a lot has changed since the blow torch!   AC Powered eNails like any brand mentioned above has seens its better days…. not because the torch is better… never!  The Evolution Intelligent portable eNail eRig is all the rave.  Now get the cleanest flavors far exceeding ANY AC POWERED ENAIL BRAND OR TORCH.  Clouds as big as a Torch flavor tastier than an AC Powered enail.  Now in the palm of your hand only by 710 Life! The Evolution enail is a game changer, sending all of our competitors back to the drawing board.  A traditional torch/dab rig won't ever get you the consistency you deserve.  The temp of a hot quartz nail drops fast the moment the heat is removed and large dabs can cause pooling, and reheats have no good flavor, and there is no way of controlling a 3500F torch orther than timing.  With the torch you risk burning  your concentrates, yourself , yoour home or other dangers
Next the 710 Life AC Powered Micro eNail which is the most awarded AC Powered enail ever made.  It has many positive things:  it works all day all night with perfectly dialed temps, it cannot heat as fast as our portable and is not going to work in a power outage, but if you have electricity it works all day great for parties and provides a pretty awesome dabbing experience filled with terps
eNails Bring Dialed in Heating Perfection
We mentioned temprature control so let's talk about why its so important.  one word and one word only TERPS, that's where all the flavor is! It's no secret that a flaming hot dab will work quickly and intensely , so its common for those looking for immmediate relief, but if you're looking to get the best and most out of your concentrates, lower-temperature dabbing will actually take you higher and tastier.  You'll preserve your terpenes they way they were meant to be.  The hits are smoother and more comfortable on the  throat.  The higher terpene levels interact with the other components to provide a well balanced feeling with supreme taste.
Designed for the Daily Dabber
If you dab throughout the day your main priority is to get a perfect dab and quickly.  If you got that bomb suace you know quality matters with your extracts and it means the same with your enail brand.  Choose it Well! Our enails are the most awards in the industry and no AC powered brand shows their awards because they don't have any. 
Now for the Intelligent Portable GAME CHANGING eNail
Thats where the 710 Life Evolution Intelligent Portable eNail eRig comes in. Super fast consistant heat, perfect terpenes, huge vapors.  No longer do you have to worry about any complicated tricky fragile setups.  This setup was made to travel and rip that sauce up.  Removable batteries mean you can stock up and charge several for a long AC free camping trip or rave or club party.