Product Description
oZone eNail v2 Easy Clean Split Top Glass Attachment
(eRig replacement Glass Attachment)
oZone eNail Easy Clean Split Top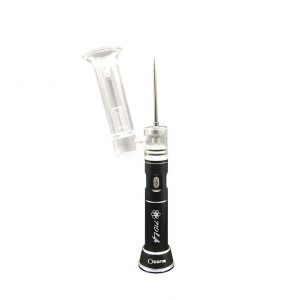 oZone eNail Replacement Glass Attachment for your oZone eNail eRig.  When you have the unfortunate accident of breaking your glass top eRig attachment for your oZone eNail eRig have no worries we have a replacement for it.  With the 710 Life oZone , there's no coils or wicks to worry about.
Always on the forefront of wax vaporization technology, it comes as no surprise that 710 Life oZone is leading the new eRig revolution. The 710 Life oZone  is a portable, battery-powered rig, employing not only just a titanium dome-less nail, Our kit comes with  all 3 nails titanium, quartz, and ceramic to fit the needs of anyone. It uses a glass-water filtration system to replicate the dabbing experience perfectly. The only difference is—and it's a big one—all it takes is three button clicks and 30 seconds to get the titanium nail hot enough to take a dab. This is a game changer! So if your on this page and do not own a portable eNail aka an eRig than go grab yourself one here.  Our vaporizer line is the culmination of our research and development.  We wanted to create portable vaporizers that are convenient and reliable, yet potent and effective. Vaporizer pens that were stylish enough to use anywhere but stealthy enough to keep a low profile. Something that isn't just a novelty, but a justifiable replacement for all other vaporizing methods. We wanted to change the way people enjoy their essential oils.   Using our signature low-heat Titanium, ceramic or quartz Technology! Our vaporizers create a thick, potent vapor that is remarkably smooth without sacrificing flavor. Pairing this technology with outstanding battery life and unparalleled build quality results in products that you will not want to put down.
Only logged in customers who have purchased this product may leave a review.