Canna-Pet Success Moves Peak Pharmaceuticals Forward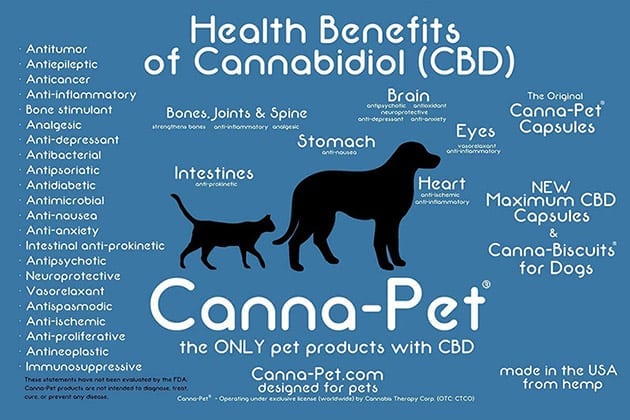 Canna-Pet Success Moves Peak Pharmaceuticals, Inc Forward. (OTCQB: PKPH) and Canna-Pet, a leading innovator of non-prescription hemp based cannabinoid products for animals, announced early in April that an initial trial run of their newly formulated MaxCBD Maple Bacon Biscuits sold out much faster than anticipated. Given the rapid acceptance of the product, it was no surprise that the Company acted quickly to update its online inventory and recently announced that the product is once again available for purchase at www.canna-pet.com.
For those not familiar with the Canna-Pet® product line, their supplements are made with hemp plant extracts, using a proprietary manufacturing process designed to yield products that mimic as closely as possible the phytochemical profile of the hemp plant. While the hemp plant is part of the cannabis family, it only contains trace amounts of the psychoactive compound THC, and is consequently available for sale in all 50 states.
"There are both regulatory and safety concerns associated with using THC containing or 'marijuana' based products for animals, and it can be confusing when our hemp supplements are described alongside 'marijuana' based products under headlines such as 'Pot for Pets,'" says Company CEO Dr. Soren Mogelsvang. "Canna-Pet is one of the very few pet products that contains CBD from hemp, and the product lineup differs from its competitors through the use of proprietary ratios of hemp-derived cannabinoids and terpenes."
Success in the Pet Industry
Peak Pharmaceuticals first entered into the pet industry in July of 2014 through a licensing agreement with Washington-based Canna-Pet LLC. In exchange for royalties, the company secured perpetual exclusive worldwide rights to all of Canna-Pet's current and future cannabinoid-containing pet products made with industrial hemp, a key ingredient that's legal across all 50 U.S. states and several other countries.
Since the acquisition, the company has grown the brand to include a number of different products, expanded distribution onto Amazon.com, and implemented marketing campaigns that have consistently grown sales. The firm's most recent 10-Q filing show its very first quarterly sales figures achieved $161,360 with a 72.7% gross margin, suggesting early success in what appears to be a highly scalable model.
The 72.7% gross margin is higher than virtually all of the big players in the nutraceutical and pet supply industries; including GNC Holdings (NYSE: GNC) at 37.22%, Whole Food Market (NASDAQ: WFM) at 34.81%, PetMed Express (NASDAQ: PETS) at 34.7%, and VCA, Inc. (NASDAQ: WOOF) at 22.8%.
As noted previously, the company launched its latest Canna-Pet product line in April with great success. Due to significant consumer demand the company has opted to add MaxCBD Canna-Biscuits for dogs to its permanent line-up, while researching additional new product lines moving forward.
Expanding into the Human market
Peak Pharmaceutical's mid-term goal is to market hemp-based products for humans by leveraging its experience from the pet industry. According to management's comments, the industrial and commercial intelligence being gathered via its veterinary activity is "positively impacting" its timeline for achieving the goal of testing and launching its first hemp-based products for humans before year-end.
The market for hemp-based cannabinoid supplements for humans has been steadily growing over the past couple of years. With new research suggesting CBDs may beneficially impact a number of health issues, consumers are increasingly seeking out CBD supplements to add to their diet. Research from companies like GW Pharmaceuticals plc. (NASDAQ: GWPH) and others could further bolster the market.
The supply side of the market remains a highly fragmented segment that's ripe for market leadership. While CannaVEST Corp. (OTC: CANV) is a supplier of hemp-extract, and Cannabis Science Inc. (OTC: CBIS) is developing CBD-based medical compounds, there are few large companies working in the supplement space. With larger players such as Blyth Inc. (NYSE: BTH) remaining outside of the market entirely.
Looking Ahead
Peak Pharmaceuticals could benefit from the tremendous potential growth in cannabinoids in the same way that nutritional supplement firms benefited from the growth in omega-3's throughout the 80s and 90s. With the potential to be on the leading edge of a billion dollar industry, investors in the cannabis and nutritional supplement industries may want to take a closer look at the stock.
The company trades with a market capitalization of just $14 million right now, which could be significantly undervalued, especially if the Company is successful in executing upon its vision. With the early success in the Canna-Pet business, the market could ultimately assign a higher valuation to the stock over the coming quarters, especially if sales growth rates continue to be seen in the financials.
For more information, visit the company's website at www.peakpharma.com.