Product Description
High Rise Atomizers
5 Pack – lasts a year or more!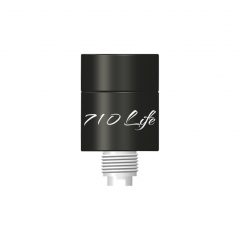 The 710 Life High Rise comes with 2 High Rise Atomizer choices. Our new state-of-the-art Dual Quartz atomizer coils that are crafted with the purest quartz instead of cheap traditional fiber wick.
Our new Dual Quart coil atomizers produce huge vapor clouds with a great clean taste.   For our purest experience, we worked hard at the development of our state of the art Ceramic Donut Atomizer.
High Rise's Ceramic Donut coils guarantee a crystal clean and smooth flavor essence and big clouds!  If you enjoy a good hit filled with great taste and thick smoke then the High Rise is for you!  We wanted to design a device that had a precise flavor to enhance the terpenes in your concentrates and produce huge clouds to get you where you want to go fast.  High Rise Atomizers are the best in the market. We didn't rush into the pen market like everyone else.  We took our time researching and developing our pen and our state of the art High Rise Atomizers.  Our atomizers are the ONLY ONES that each comes with their own cap so you can store different flavors/strains in each atomizer!
NEVER LET THE ATOMIZER RUN DRY; ALWAYS KEEP AT LEAST A SMALL AMOUNT IN THE ATOMIZER
Only logged in customers who have purchased this product may leave a review.