Product Description
Lil CRUSHER 8-20 Ton+ Hand Rosin Press
The Best name in oil vaporization has the best Rosin Press for you.
Smashing the resin right out with our rosin press.  The best hand rosin press crusher / smasher on the market!
Largest plates and wheels on the market in the handpress category – extreme torque, extreme power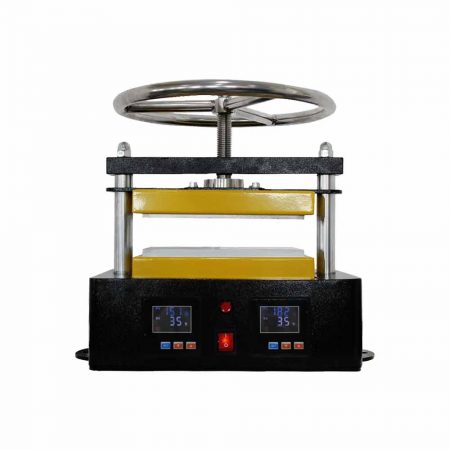 If you want to extract the most possible and be left with cannabis paper and a glob of wax than this rosin press is for you.  6″ x 8″ thick plates produce tons of PSI, depending on how much you spin the wheel literally tons of pressure can be achieved with ease all controlled by you hands!  Pushing and Crushing the weed until it has no more resin to give is all in the leverage created by our big wheel! The best cannabis hand smasher crusher on the market. We took the guess work out of rosin presses, we made it so simple all you do is turn the wheel.
Tips for extraction The material you use to make your rosin has a large impact on the quality. In general.. The highest quality input material leads to higheest quality Rosin. On top of that, some strains simply produce more and better rosin than others.  When it comes to type of material, you can use cannabis flowers, hash, kief/sift, shake or trim. Flower will give you the best quality, but lower yields. Hash gives you the best combination of yield and quality.  Quality is king! The quality and strain makes a big difference, which is why you see a large range in potential yields for each type of material.  No other flower smasher / crusher rosin press can extract this amount by hand.
Trim: 3% to 8% yield; 30% quality
Shake: 8% to 15% yield; 30% quality
Flower: 15% to 30% yield; 100% quality
Kief/Sift: 30% to 60%+ yield; 75% quality
Hash: 30% to 70%+ yield; 80% quality
If you are using flower, try to use smaller nugs, since they have more surface area relative to their total mass. More surface area & less mass in the middle means the rosin does not have to travel as far to get out and there is less chance any stays inside.  Relative humidity also plays a vital role when pressing flower. If the nugs are too dry, they soak up much of the extract, like a sponge. The ideal range is 55% to 62% relative humidity.  If you are unsure about the humidity, these humidity packs to ensure your material is always at the ideal relative humidity.  A major factor that we determined after many flower rosin presses is that the humidity & moisture content make a major difference for your flower rosin yields. The reason for this is that if your cannabis is very dry, it will act like a sponge when the trichomes are liquefied, thus soaking up much of the rosin before it has a chance to escape. When you press your flowers, always make sure the relative humidity content of your material is at least 55% to 62% for optimal results. Rosin Filter Bags If you are pressing flower, you don't need to use a rosin press filter bag, but I'd recommend one anyway. For all other types of material, you'll definitely want to use one. Parchment Paper – The parchment paper is used to collect the rosin. You can find parchment paper in most grocery stores. If you want to make sure you get high-quality, FDA approved food-safe paper
a good instructional post about how to make rosin! Click Here
15.5″L x 11.5″W x  14.1″ H
40.1 LBS Net Weight
49.4 LBS Gross Weight
Thouroughly insptect package before signing for it.  We are not responsible for damage if you accept it damaged.
| | |
| --- | --- |
| Weight | 880 oz |
| Dimensions | 18 × 14 × 15 in |
| Choose Type | |
Only logged in customers who have purchased this product may leave a review.