Historic Bills to Regulate California's Medical Marijuana Industry

early 20 years ago, California led the nation in legalizing cannabis for medical use with the enactment of the Compassionate Use Act (Proposition 215). However, the Act offered little guidance on how patients should obtain medical cannabis or how the industry should be monitored. This uncertainty has created a hodgepodge of local rules and ordinances and some very disturbing environmental and safety issues, but that's all about to change.
Bringing Oversight to California's Medical Marijuana Industry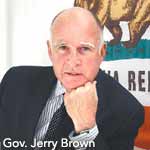 On Friday, Governor Jerry Brown signed into law a trio of bills that aims at bringing order and oversight to California's medical cannabis industry, governing everything from licensing, taxation, quality control, packaging, transportation, testing, and environmental impact.
The legislation includes: Assembly Bill 266 which sets up a medical marijuana bureau, adopts a system for reporting movement of commercial cannabis and cannabis products, and imposes certain fines and civil penalties for specified violations of the act; Assembly Bill 243which sets the state on a new path for responsible marijuana cultivation and its impact on the environment, as well as establishing guidelines for charging licensure and renewal fees and imposing certain fines and civil penalties; and Senate Bill 643 which puts the squeeze on clinics that specialize in issuing medical marijuana licenses for people without valid health needs or doctors recommending the drug excessively, especially when they have a financial stake in a cannabis business.
"Gov. Brown and his colleagues in the Legislature have just given the green light to let California's cannabis industry become the thriving, taxpaying, job-creating industry it was always destined to become." – Nate Bradley, Executive Director of the California Cannabis Industry Association
The package of new laws will create the first statewide system of licensing and operating rules for marijuana growers, manufacturers of cannabis-infused products, and retail cannabis stores. Many different agencies will be tasked with overseeing various aspects of the industry. Within the Department of Consumer Affairs, a new agency called the Bureau of Medical Marijuana Regulation will be created to issue, renew, discipline, suspend or revoke licenses for the transportation and storage (unrelated to manufacturing) of medical cannabis. The State Department of Food and Agriculture will administer cultivation and transportation. The State Department of Public Health will oversee the quality of marijuana and growing practices, including testing. Newly classified as an agricultural product, the state Natural Resources Agency is being asked to identify areas most impacted by illegal grow operations which strip water from the forest lands and introduce harmful pesticides and chemicals to the environment posing harm to fish and wildlife so that restoration can begin.
California's Developing, Legal Medical Marijuana Industry
Although some of the standards do not take effect until 2018, establishing a strong foundation first was vital as voters are expected to decide on legalizing recreational marijuana in the Golden State next year. Marijuana advocates have proposed at least five measures for the ballot, and organizations favoring legalization are working to find one they believe will most appeal to voters. No doubt they will be busily reworking ballot initiatives to accommodate the new laws.
The lack of regulations for the industry has been frustrating to marijuana advocates since the enactment of the Compassionate Use Act, so this new structure is getting a thumbs up from many. It will take some time to put everything into motion, but the foundation has been set.